For two days at the Toronto Event Centre, under a glittering 60-foot-high crystal glass dome that prompted some to pull out their sunglasses, attendees at this year's CDL Super Session gathered to take in keynote addresses, pressing debates and to participate in roundtable discussions with graduating early-stage tech companies from the CDL program.
"We've had CDL Super Session before but never at this scale," said Sonia Sennik, executive director for Creative Destruction Lab (CDL). "The last Super Session we had in person was 2019. We had six CDL sites."
The massive event that marked the culmination of CDL's 2022/23 program year was attended by graduating ventures and founders, mentors, investors, partners, scientists, academics, entrepreneurs, policy makers and business leaders from around the world. CDL Super Session had over 1,000 participants from 12 CDL sites and 25 streams from six countries.
The in-person aspect proved to be invaluable, with networking and deal making happening in huddles around the tidy rows of banquet tables. Greg Hanna, co-founder of Destiny Copper and recent graduate of the CDL-Vancouver Climate stream, said a highlight was meeting CDL Space founding fellow Chris Hadfield, decorated astronaut, engineer and pilot, advisor to SpaceX and Virgin Galactic. Hadfield was a speaker at this year's CDL Super Session and Hanna found the opportunity to pitch him. "Ultimately copper will be needed on the moon, and producing copper using chemistry as opposed to electricity will be super beneficial," said Hanna.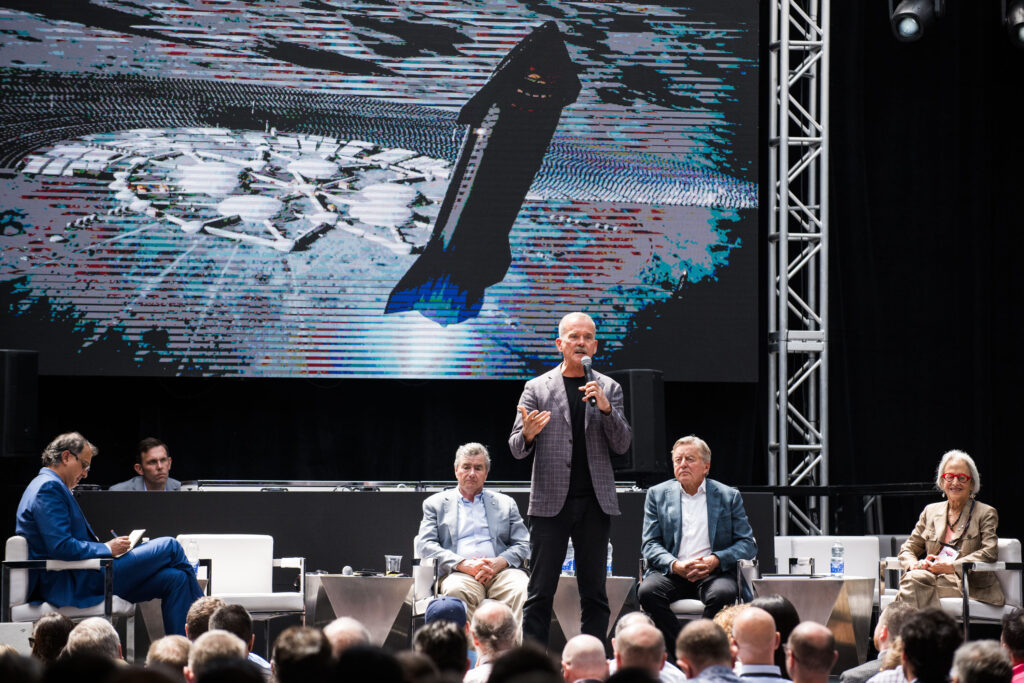 Other venture founders, like Mert Esencan of Icosa Computing and graduate of the 2022/23 CDL-Toronto Quantum stream, said it was mingling with his peers — startups and founders in other fields — that made the event invaluable.
Outside of networking, the overarching theme for the two days was Artificial Intelligence. There was a mainstage panel discussion, a keynote and debate on the critical subjects. Speakers such as Daron Acemoglu, institute professor of economics at MIT and co-author of Power and Progress: Our Thousand-Year Struggle Over Technology and Prosperity, and Richard Sutton, chief scientific advisor, fellow and Canadian Institute for Advanced Research AI chair at Alberta Machine Intelligence Institute, presented (and in the case of Acemoglu also defended) their views on the matter.
For the debate — "be it resolved that human-like intelligence is the wrong focus for our work" — Erik Brynjolfsson, the Jerry Yang and Akiko Yamazaki professor and senior fellow at the Stanford Institute for Human-Centered AI, took the affirmative side while Joshua Gans, the Jeffrey S. Skoll chair of technical innovation and entrepreneurship at the Rotman School of Management and chief economist at CDL, stood in opposition.
It is, in part, this desire to wrestle with big ideas affecting the future, economy and startup ecosystem that makes CDL stand apart from accelerators and incubators. Ted Graham, principal at GM Ventures and CDL partner, said it's that big thinking that propels innovation in unexpected areas. "CDL has pushed General Motors to really think beyond what is the tech that's going to go into our future vehicles," said Graham, explaining how quantum computing will power analysis for research and development in the years ahead.
That ambitious forward thinking philosophy is what draws in the world-class leaders, thinkers, innovators and investors whose enthusiasm and support are considered the most valuable aspect of the program for many of the recent graduates at Super Session.
"The star of CDL is the CDL community," said Sennik. "Brilliance is evenly distributed and opportunity is not. At CDL we're trying to provide the opportunity for founders to meet with the right individuals that can help them accelerate their companies."
Companies and founders interested in applying to CDL can contact admissions@creativedestructionlab.com for more information. Applications will be accepted online until July 31, 2022.
About Creative Destruction Lab
Creative Destruction Lab (CDL) is a nonprofit organization that delivers an objectives-based program for massively scalable, seed-stage, science- and technology-based companies. Its nine-month program allows founders to learn from experienced entrepreneurs, increasing their likelihood of success. Founded in 2012 by Professor Ajay Agrawal at the University of Toronto's Rotman School of Management, the program has expanded to 12 sites across six countries: Oxford, Seattle, Paris, Atlanta, Madison, Vancouver, Calgary, Montreal, Halifax, Berlin, and Estonia. Learn more at creativedestructionlab.com.
Media Contact
Amarpreet Kaur
Associate Director
Creative Destruction Lab
amarpreet.kaur@creativedestructionlab.com