Last week the CDL hosted its first ever quantum computing hackathon at the Rotman School of Management in Toronto. For 26 hours on July 19 and 20, thirty-six participants worked to solve problems presented to them by leading quantum computing hardware and software companies.
Participants are all part of the our Quantum Machine Learning Program — the first of its kind globally — that acts as an incubator where founders build startups at the intersection of quantum computing and machine learning.
The hackathon was their first chance to build on what they have learned the past weeks in our training program — a crash course in hands-on quantum programming, where the participants start to grasp what the abilities and limitations are of current quantum computers.
The first known quantum hackathon in the world that is multi-platform and multi-hardware, it involved all three of the CDL's quantum computing technology partners:
Each partner takes a different approach to quantum computing, both in how their hardware works and in how users interface with their systems. From Peter Wittek, our Academic Director's, perspective, there are untapped opportunities in using multiple hardware backends to push the boundaries of modern quantum algorithms. Wittek has noticed real-world advantages to this as well: most of the successful companies in the first quantum cohort were diligent in making their solutions "hardware agnostic".
Other than an opportunity for participants to consolidate knowledge, Wittek sees this as a crucial moment to test team dynamics. The hackathon provides a window into what people are like under pressure and how best they work. One co-founder could stay all night to complete the project and another could go home at 8 p.m. and come back at 9 a.m. Either approach can work for a startup, but if two co-founders on a team have very different approaches? "It's a disaster," says Wittek.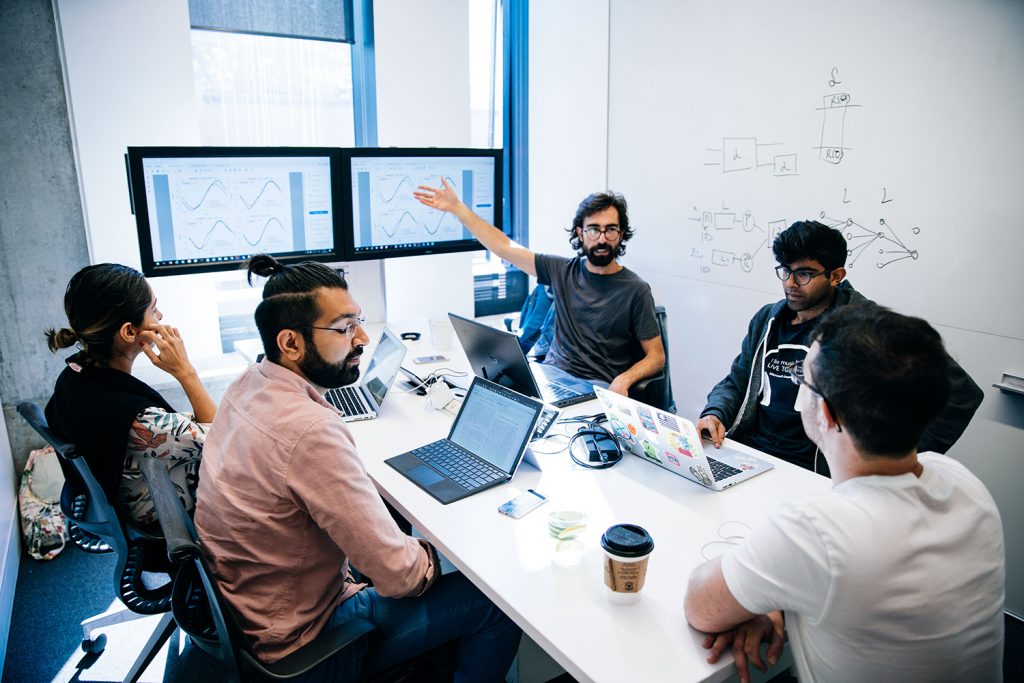 Hackathon prizes were awarded in two categories – those awarded for the best solution to each hardware provider's challenge, as determined by a representative from the partner, and those for the best overall solution. This year's overall panel of judges consisted of Ben Sussman, Photonics Program Lead at the National Research Council of Canada, Fiona Cunningham, Director of Innovation at the Canadian Institute for Advanced Research, and Mo Tabrizi, a member of the Fujitsu Digital Annealer group of U of T. Technology partners were represented by Alex Condello, Applied Math Researcher at D-Wave, Steven Heidel, Quantum Software Engineer at Rigetti, Nathan Killoran, Software Lead at Xanadu, and Josh Izaac, Physicist at Xanadu.
Without further ado – we're proud to announce the following teams as winners —
Overall:
Energy Boosters – Hans Melo, Raul Blazquez Garcia, Patrick Huembeli, and Susan Chen
Bohr – Witold Kowalcyk, Przemek Chojeki, Michal Stechly, and Wayne Nixalo
Q-Wave – Fadi Azmy and Justin Heaton
Technology partner challenges:
D-Wave: Energy Boosters –  Hans Melo, Raul Blazquez Garcia, Patrick Huembeli, and Susan Chen
Rigetti: Beit – Adam Szady, Lukasz Czerwinski, Anna Kornakawiewicz
Xanadu:  Bohr – Witold Kowalcyk, Przemek Chojeki, Michal Stechly, and Wayne Nixalo
The first place team, Energy Boosters, decided to work on the D-Wave platform to achieve a quantum boost in the classification of a chemical-materials dataset. They quickly hit a roadblock, however, in that the D-Wave quantum computer wasn't designed for the type of problem they were tackling. Their response was to invent and create a new set of software packages specifically to coax the machine to work with their data, effectively expanding what the D-Wave platform is capable of.
Another team, Beit, designed a genetic algorithm to optimize the implementation of quantum circuits on Rigetti's quantum processor. This work helps us to get the most computational power out of the still nascent technology by minimizing the effects of problematic noise in the hardware.
Bohr, a company that came out of Poland to join the CDL Quantum program, decided to work on Xanadu's photonics platform. This approach uses individual photons (packets of light) as a medium for quantum computing. The Bohr team used this framework to tackle combinatorial optimization, such as the well known traveling-salesman problem. Hard optimization problems of this sort span over many ranges of industry, and this represents one of the compelling application areas expected of quantum computing.
Other projects undertaken during the hackathon include optimizing the placement of antennae stations, experimenting with quantum glitch-art, and creating a hotdog classifier. Overall, we witnessed an exciting degree of out-of-box thinking in the directions our quantum founders chose and how they approached the steep challenges presented to them, and we can't wait to see them bring the same energy and talent to their emerging quantum startups!
—
The Quantum Program at CDL-Toronto is an incubator where founders build startups at the intersection of quantum computing and machine learning. The program brings together entrepreneurs, investors, AI experts, leading quantum information researchers, and our technology partners, D-Wave Systems, Rigetti Computing, and Xanadu to create new ventures at the frontier of quantum machine learning. Participants  receive US$80k equity investment from Bloomberg Beta, Data Collective, and Spectrum28, office space in downtown Toronto, and intensive technical training from industry and academic leaders in quantum computing and machine learning.