Leading AI researchers and business executives discuss the competition for AI complements at the 2018 Machine Learning and Market for Intelligence Conference.
The theme of this year's annual Machine Learning and the Market for Intelligence conference was complements. While the market for algorithms is focused on expanding the capabilities of AI, complements of AI—everything that is needed in addition to algorithms, such as laws, regulation, data, training, infrastructure, and human supervision and judgment—are necessary to capture wide-spread productivity gains attributed to commercial-grade AI. On October 23rd, 2018, Creative Destruction Lab (CDL) hosted the world's leading AI researchers and executives at the Rotman School of Management at the University of Toronto to discuss competition in the market for AI complements. Here are some of the highlights.
Scott Stern on the value of AI as "general purpose technology"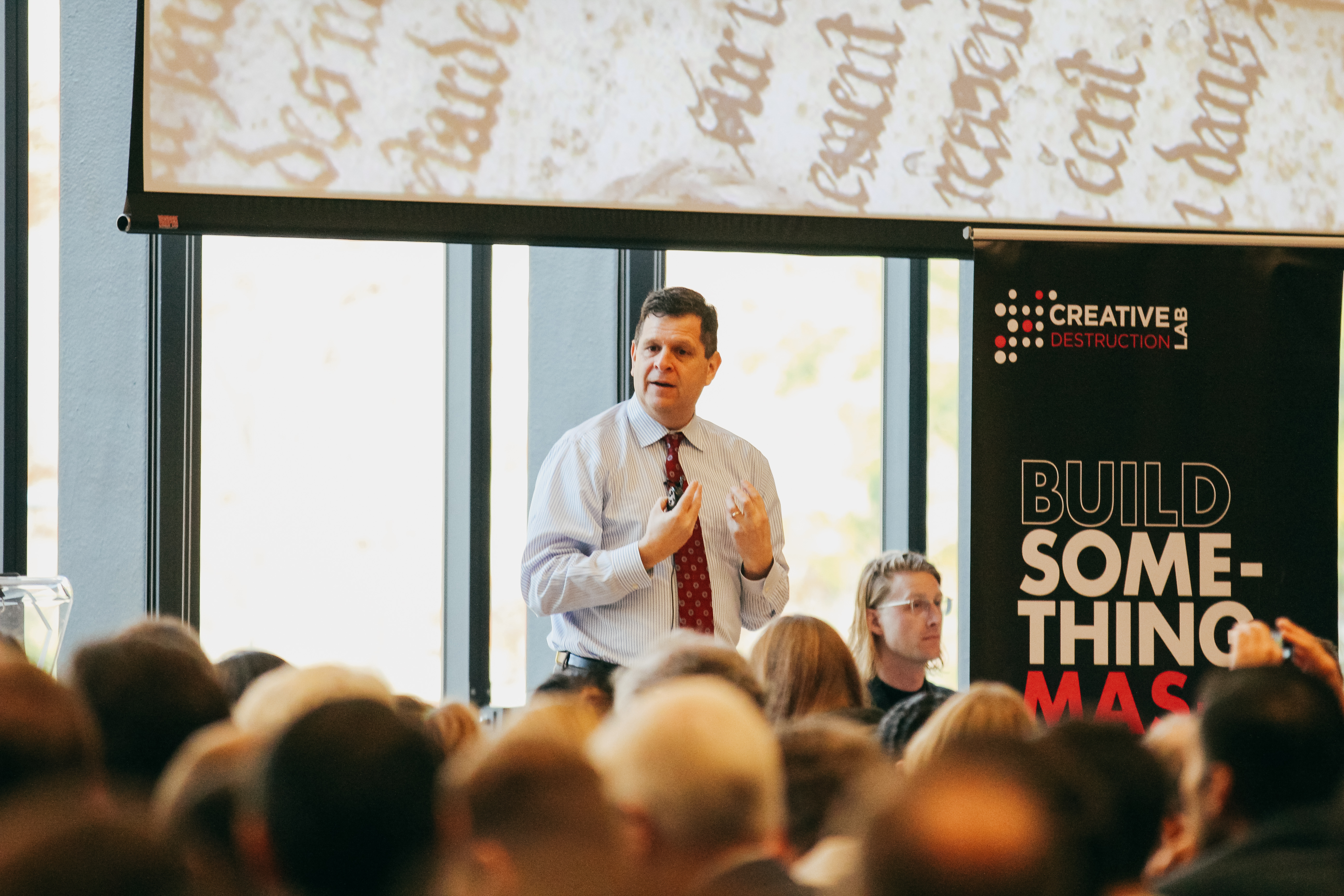 Beyond immediate applications, Stern asks, how might a shift in the science of artificial intelligence influence nature and direction of innovation? There may be a possibility that deep learning represents a new general-purpose technology for the method of invention. Since 2009, there has been a significant increase in the amount of deep learning based application-focused research.
"It's hard to talk about the future – sometimes we can draw analogies from the past. If you dive deep into those, you are able to get a concrete sense of what the possibilities are," noted Scott Stern, the David Sarnoff Professor of Management, Technological Innovation, Entrepreneurship, and Strategic Management at MIT Sloan School of Management.
Anja Lambrecht on the biases of AI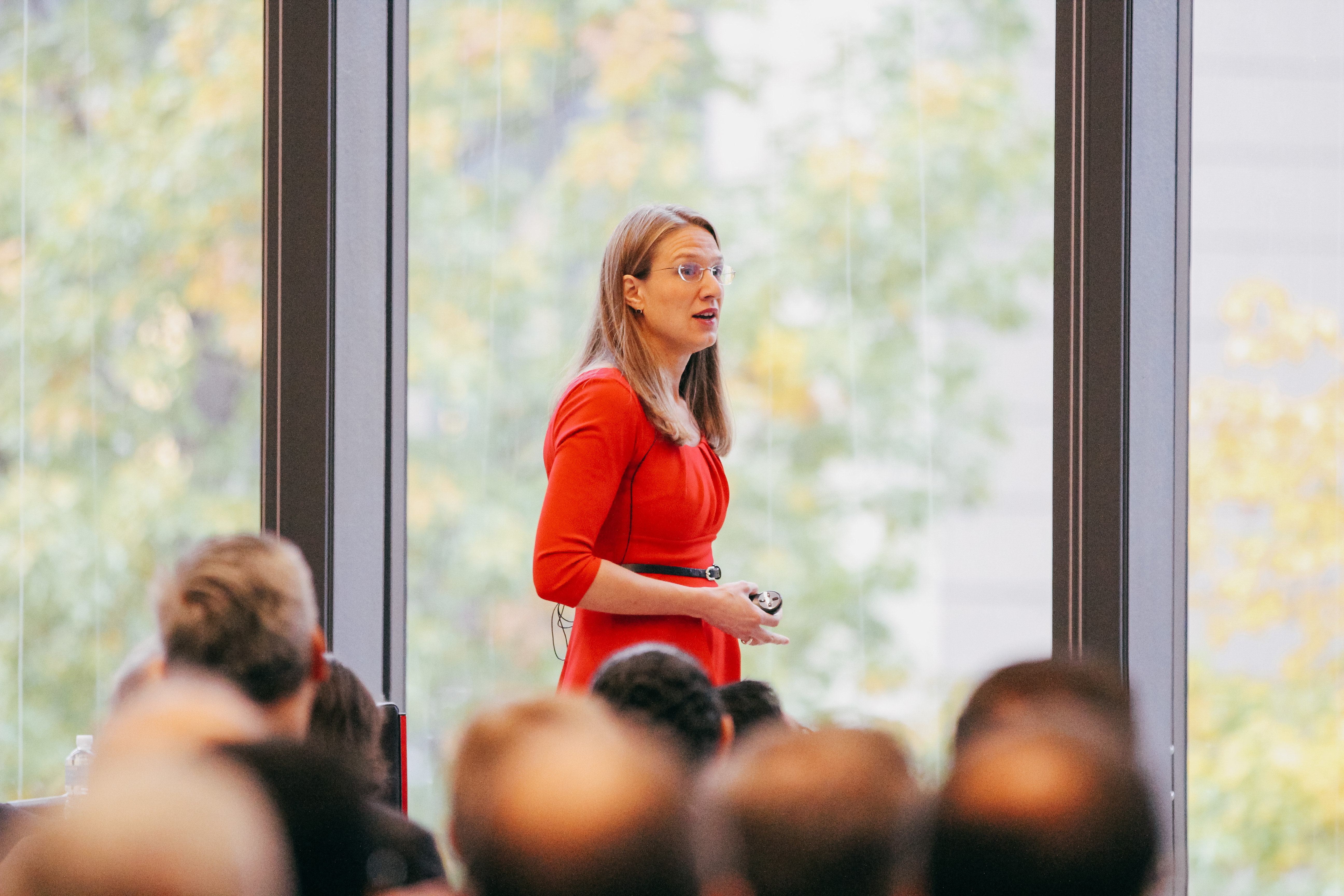 Anja Lambrecht, Professor of Marketing at London Business School, noticed she was exposed to drastically different online advertisements in comparison to her husband. While he received engineering employment advertisements, she received retail advertisements for brands like Gap or L'Occitane. In her marketing research study, Lambrecht found more examples of algorithmic bias in marketing platforms where STEM career advertisement delivery were skewed towards men. In the prime career years of 25-34, the outcome of determining the path of a woman's career could be unintentionally influenced by economic forces within these platforms.
"The algorithm is just reflecting the behaviour of people who use it," explains Lambrecht.
Algorithm bias may be an unintentional consequence, but Lambrecht cautioned: do not assume an algorithm will neutrally deliver solutions. She warns, based on the outcomes of algorithmic gender bias, it is likely to be challenging to address other complex factors, like economic marginalization and race. In order to prevent future negative effects towards marginalized groups, it will be necessary to have regulations requiring algorithmic transparency or policies to manually intervene and correct imbalance.
Michael Evans on the benefits of AI for a population as a whole on the day-today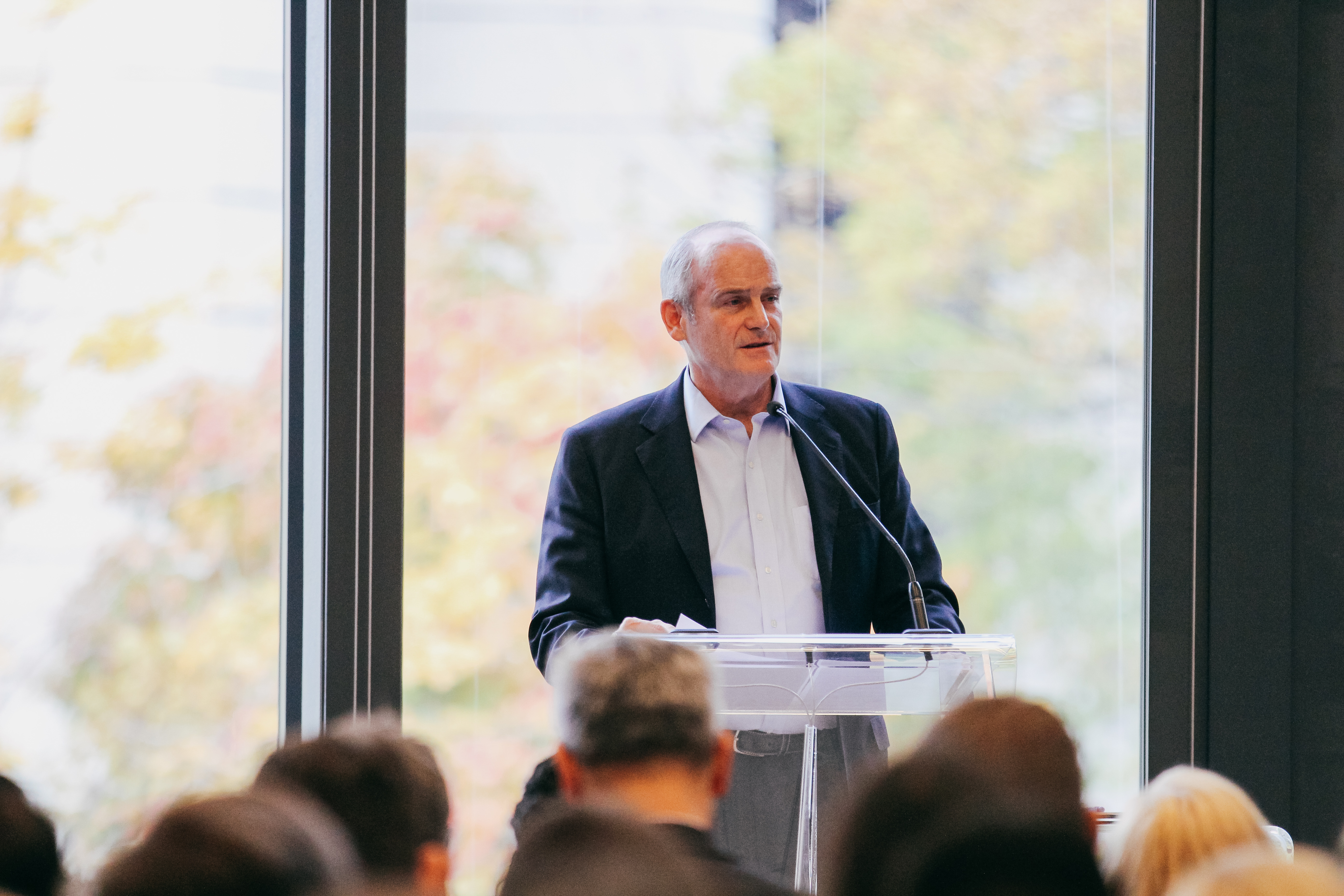 Michael Evans, president of Alibaba, presented how the benefits of AI in their business ecosystem reflect the possible benefits to society through real-life examples of AI employment.  One of the examples shown was Alibaba's customer inquiry chatbot. Each week, the popular Chinese e-commerce website receives billions of customer inquiries that would require the staffing of millions of people in a call centre. Instead, 95% of these are handled with chatbots, which saves up to 160,000 human hours each day for Alibaba.
But AI employment can be transformative beyond e-commerce and business. Alibaba has opened up its use of AI outside of their business ecosystem by launching City Brain, an AI traffic management system designed to mitigate the challenges of cities, such as congestion, accidents, drainage, and snow. City Brain analyzes video to identify unusual activities, such as vehicles pulled over on highways, and directs police officers to their exact locations. The result of this initiative has reduced traffic jams by 15% in Hangzhou, China (ranked 7th in China and 16th globally in congestion).
Using the same AI technology of City Brain, Alibaba is also applying it to expand to other fields in need of improvement, including healthcare management, manufacturing, environmental conservation efforts, finance, and aviation. "We think there are many AI applications beyond commerce and our ecosystem in the future that we want to provide the technology for. Our ability to increase computing power and advance chip technology and lower the cost of AI applications is really our long-term focus… This is technology for everybody, not just for the few."
Ben Goertzel on the democratization of AI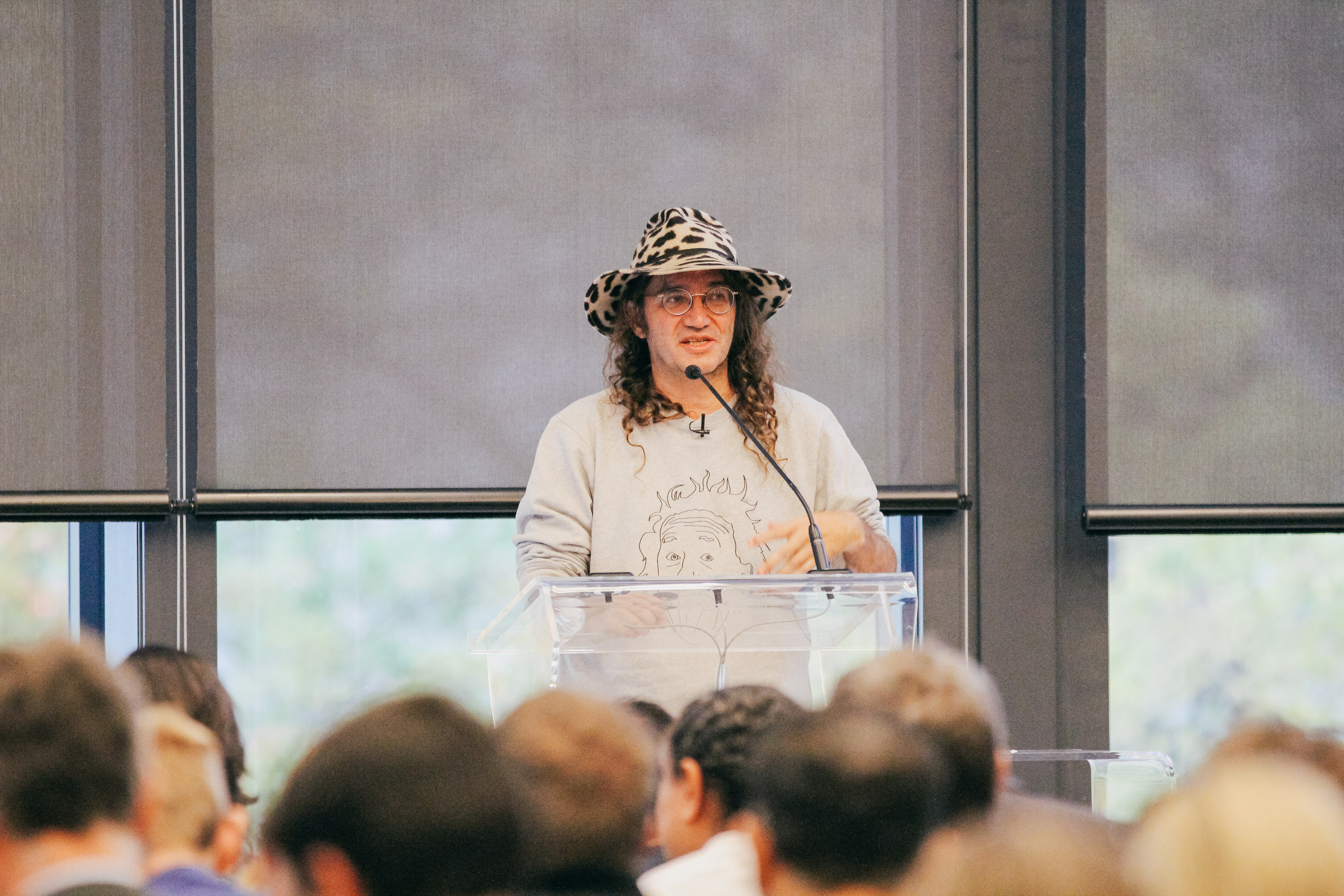 Creating a beneficial AI is hard but if you leave out large proportions of human race out of the process, it creates inequality from day one. If the AI only benefits a small group of elites, it also increases the odds of misuse of technology.
A decentralized AI ecosystem, where anyone can create, share, and monetize AI services at scale, can both accelerate progress for general intelligence and encourage progress in a more democratic and participatory way.
"There is not a lack of areas where AI can be applied to", says Ben, "but one of the problems in the economics of AI industry now is that it is being directed towards those application areas that give the most differential advantage to a few large companies. We are channeling money into where there is more money to be made."
Suzanne Gildert on the importance of considering ethics in the development of AI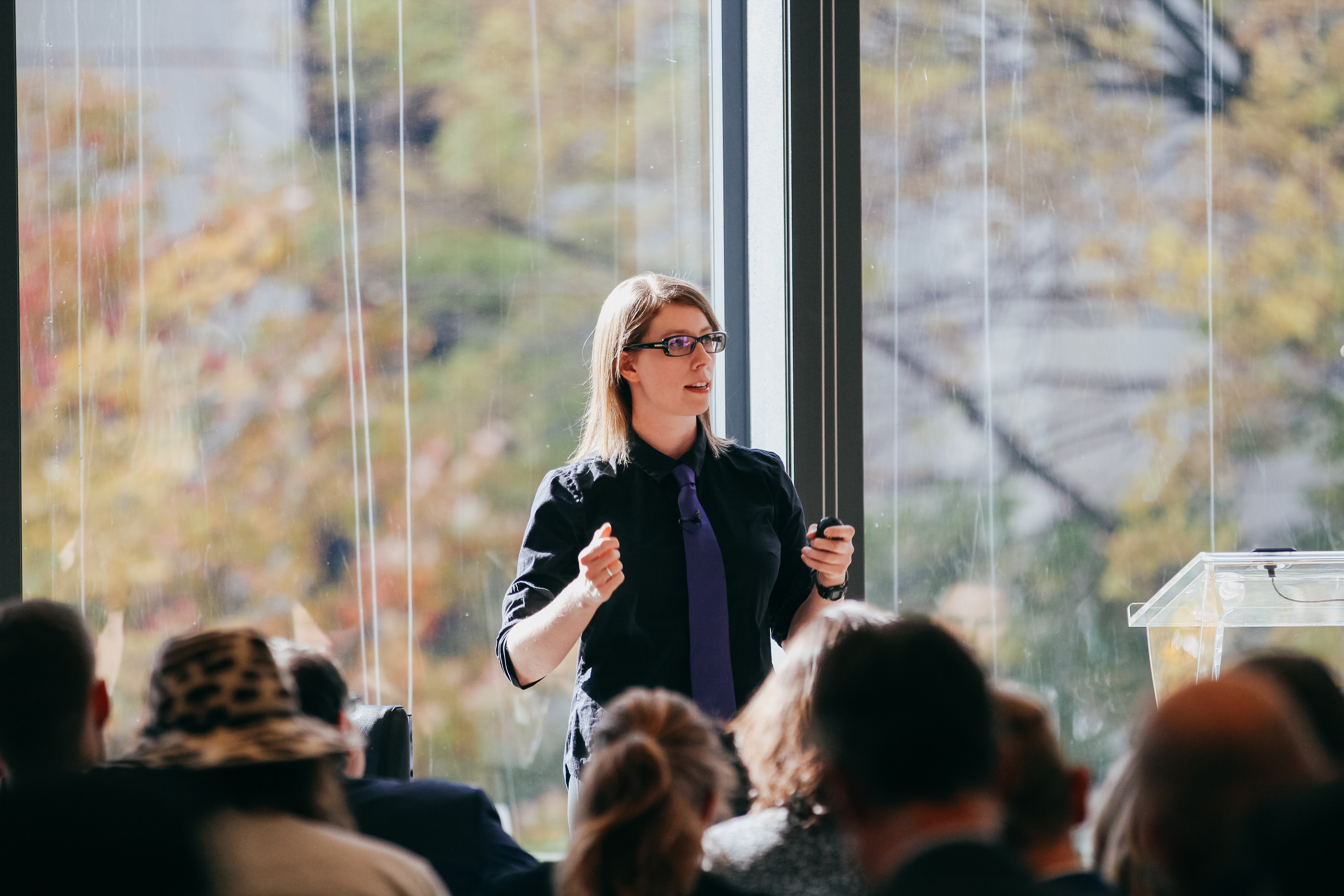 "People often tell me that they consider superintelligent human robots to be threatening," says Suzanne Gildert. However, it is important to keep in mind that Intelligence has many facets.
As society enters the third wave of AI, an era in which different AIs are coming together to work as a society of mind, it is now possible to harness this super intelligence for physical, social and creative good. These robots can be developed to become artistic geniuses or support areas like nursing, where there is a current human resource shortage.
In order to build robots that are capable of performing tasks that go beyond basic automation, reinforcement learning needs to take place. This requires giving the robot a sense of good and bad, and therefore programming pleasure and pain for them to learn the difference.
Teaching humanoid robots empathy also gives rise to ethical considerations in their development. "We have to give them rights and responsibilities and we shouldn't be afraid of it," says Gildert.
Linda Hasenfratz on how AI may save the workforce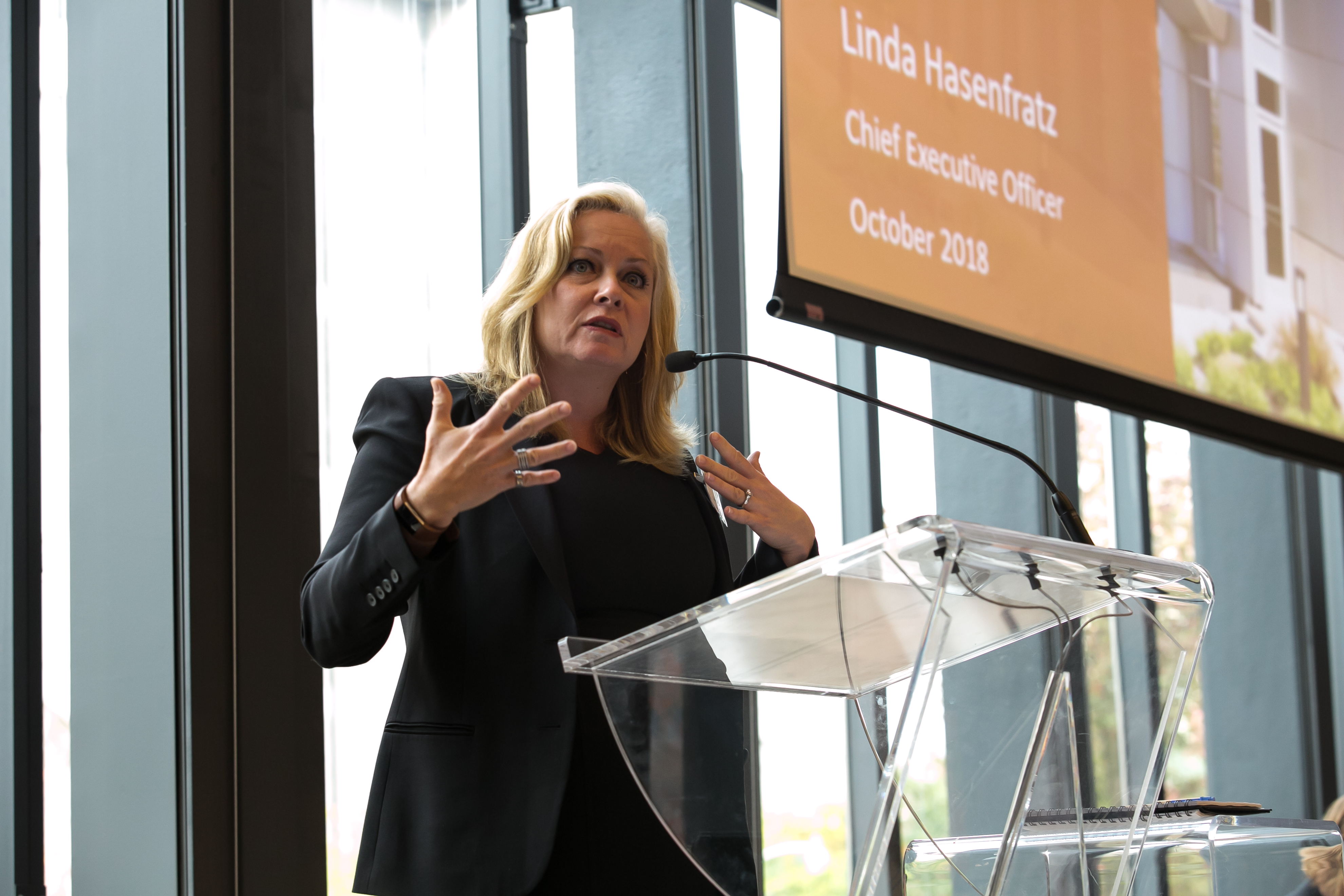 The arrival of AI doesn't always mean loss of jobs. Linda Hasenfratz, CEO of Linamar, Canada's second-largest automobile parts manufacturer, has found that it has helped increase and improve work for humans. After receiving funding for AI from the Canadian government, it has helped create more than 1,500 jobs. "Our visions systems have allowed us to take people out of the end of the production line, who are actually visually inspecting products for defects," she said. "Machines can do the repetitive work that we have people doing today."
"Not only has the work become more interesting, but it's paying better," she says." For example, Hasenfratz quoted total headcount has increased 46.6% from 2011 to 2018 and total wages have increased 75.8%. AI can also help address the aging and shrinking workforce population in Canada, said Hasenfratz. "Without automation, we would be struggling to get production out the door today."
"The overall headcount of our business is growing. We are using this better efficiency [AI], this better competitiveness to grow our business, to win more business by simply using a different makeup of our workforce," reports Hasenfratz. Incorporating AI not only adds new jobs, but it frees up workers from completing repetitive which adds a new dimension to the workforce and creates opportunities for new business models.
What's next?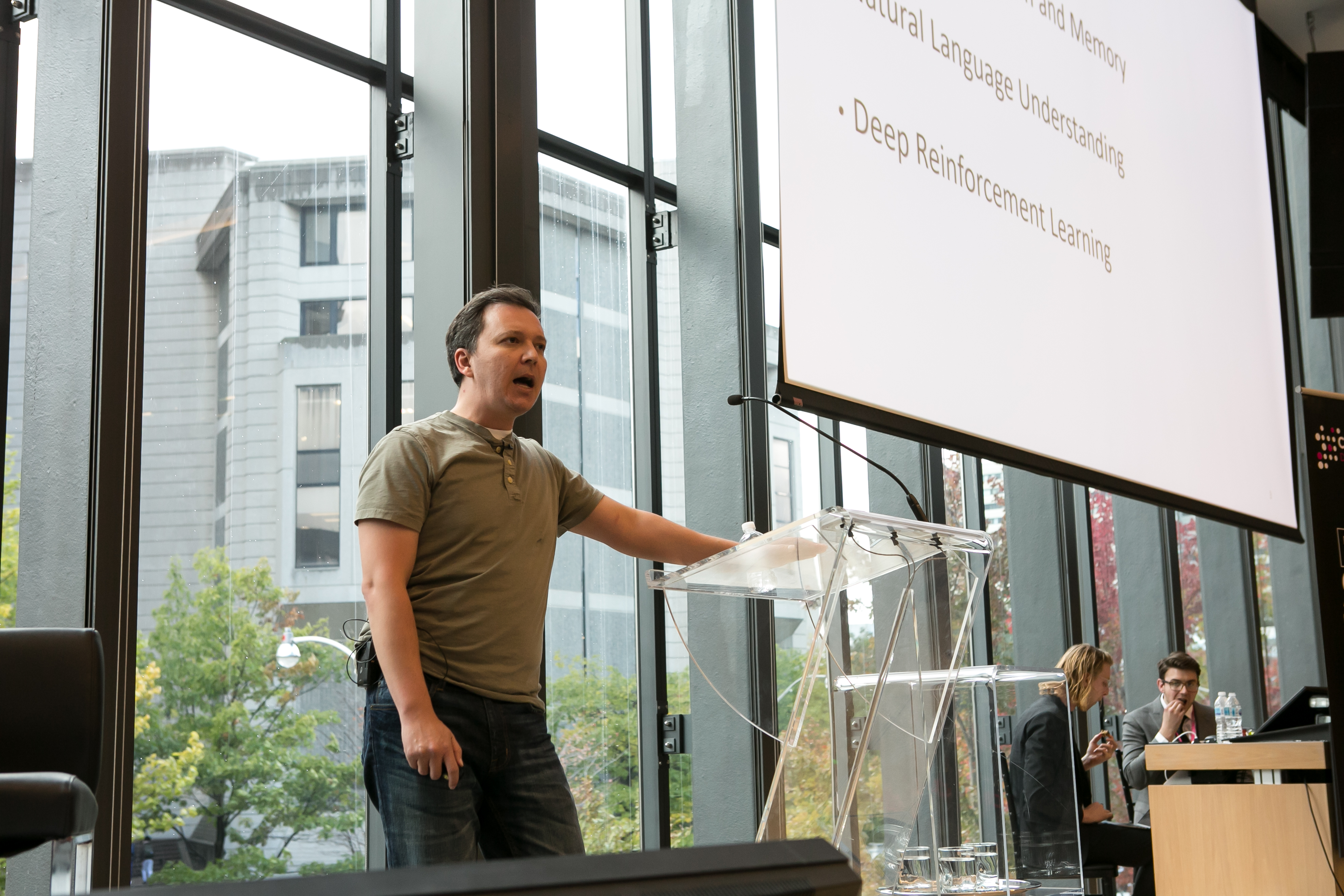 Even with the recent successes of AI development, there are still a plethora of challenges to overcome. Reasoning, attention, memory, natural language understanding and deep reinforcement learning are just the few that were pointed out by Russ Salakhutdinov, a professor of Computer Science in the Machine Learning Department at Carnegie Mellon University.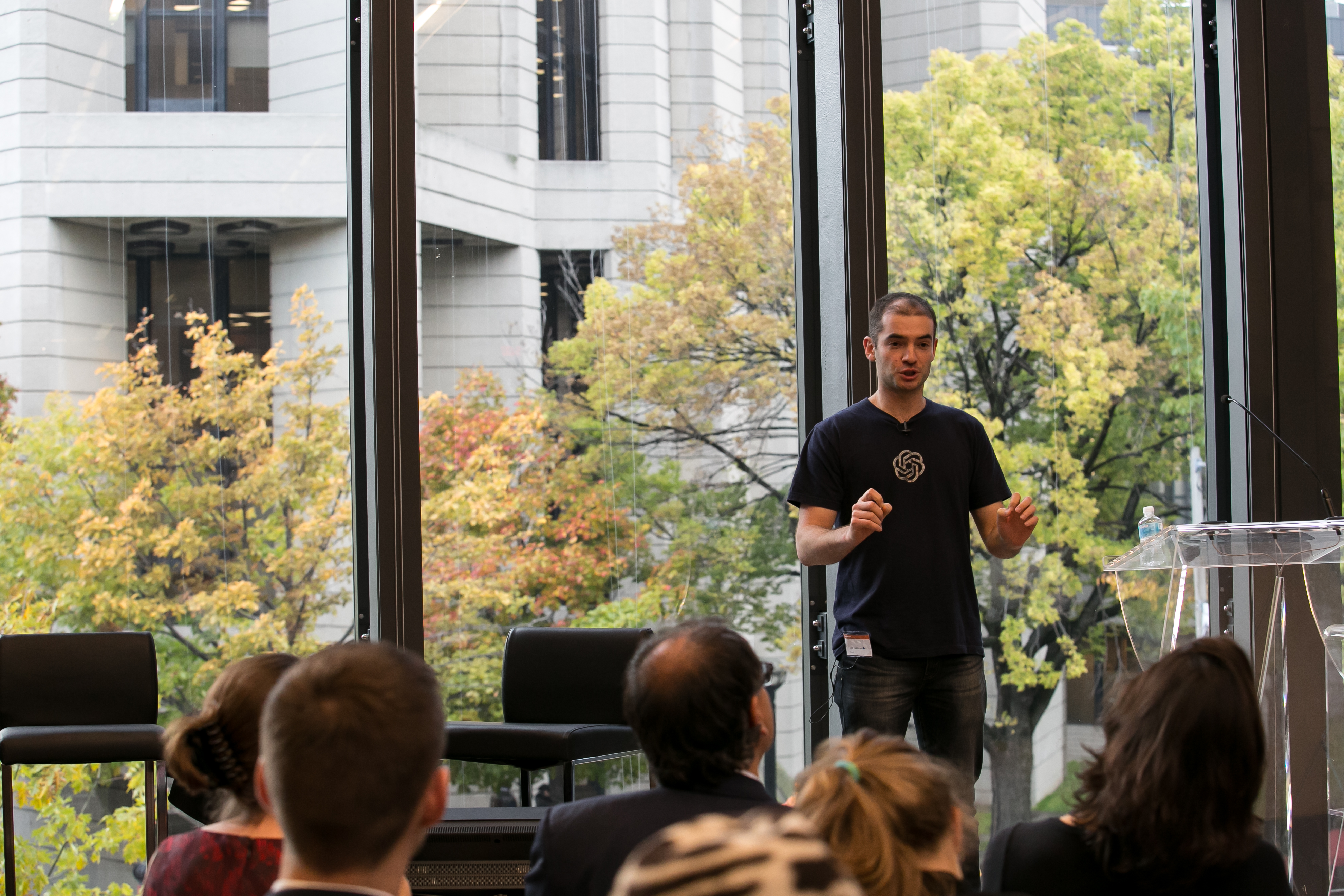 For Canada to keep up with the rest of the world over the next few years, we'll need to move faster, said Ilya Sutskever, co-founder and research director of OpenAI. "We need fast adaptation. MIT and the US education system is moving much faster. Canada could be a little more adaptive and move a little faster," said Sutskever.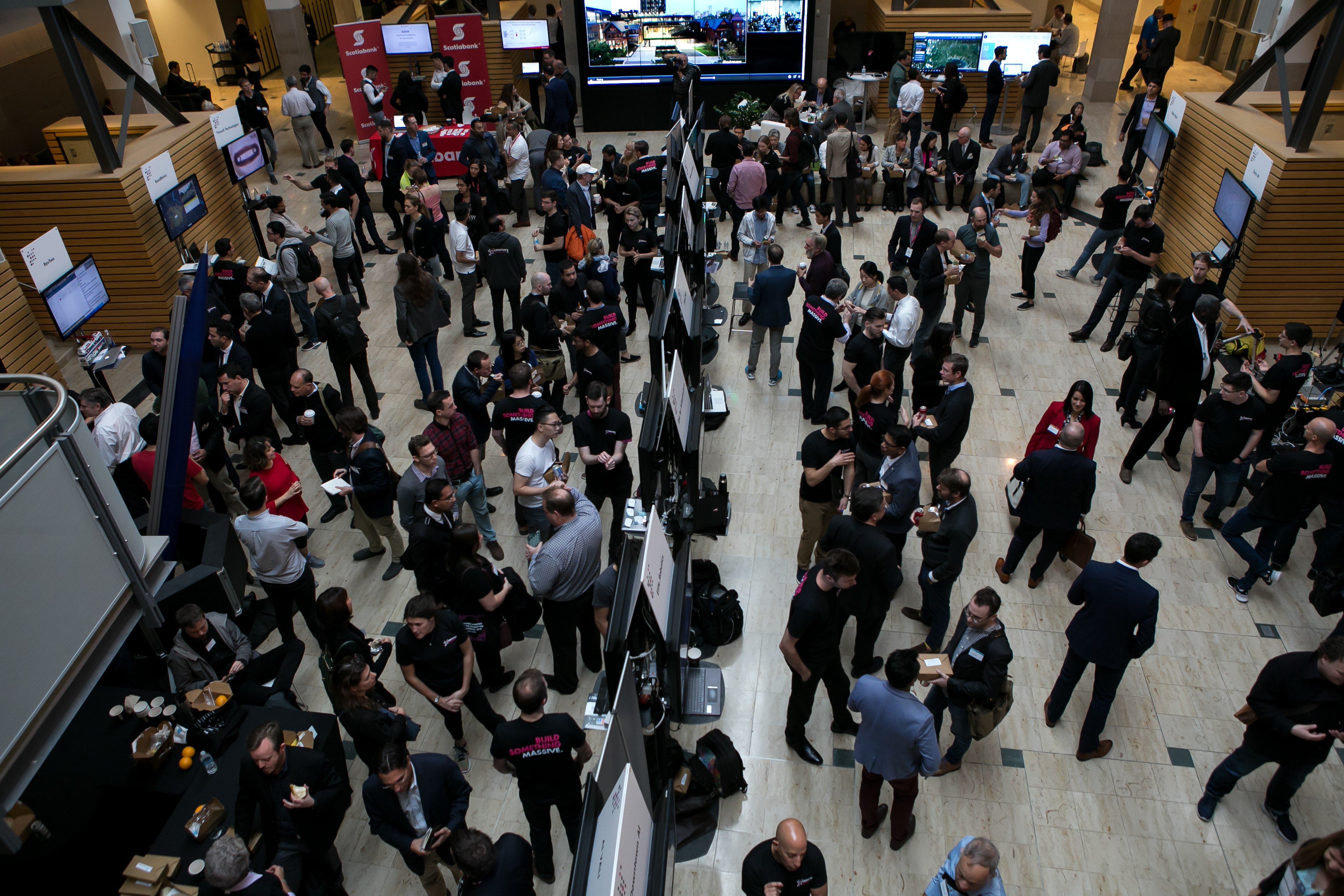 "The market for complements is a traditional competition for scarce resources," said Professor Ajay Agrawal, founder of Creative Destruction Lab (CDL). Because complements are required to fully capture the productivity gains of AI, there are significant benefits to being the first to achieve commercial-grade, which has increased competition among many major corporations for resources such as talent. Fortunately, Canada does have an abundance in AI talent, and one of the largest benefits of Canadian-made machine learning is that there is a diverse talent pool, which results in a more well-rounded machine learning product. It's important to consider all societal factors—like age, race, income, education, and access to healthcare—in order to have real diversity and ensure that Canadian machine-learning reflects that of the population.
---
The conference is dedicated to exploring the commercial opportunities and socio-economic implications arising due to advances in machine intelligence. For more details, visit marketforintelligence.com. To view all speaker talks, visit here.