Since 2017, Creative Destruction Lab – Montreal has maximized equity-value creation of more than 125 science-based companies, and counting. Through CDL's objective-based mentorship process, more than 37 of their startups have translated their science-based technology into entrepreneurial success stories.

Altogether, CDL-Montreal graduated ventures contribute to the improvement of economic productivity and human welfare. This article features some of the CDL-Montreal alumni companies:.

Strella Biotechnology
COFOUNDERS: Katherine Sizov (CEO), Jay Jordan (COO)
STREAM: Supply Chain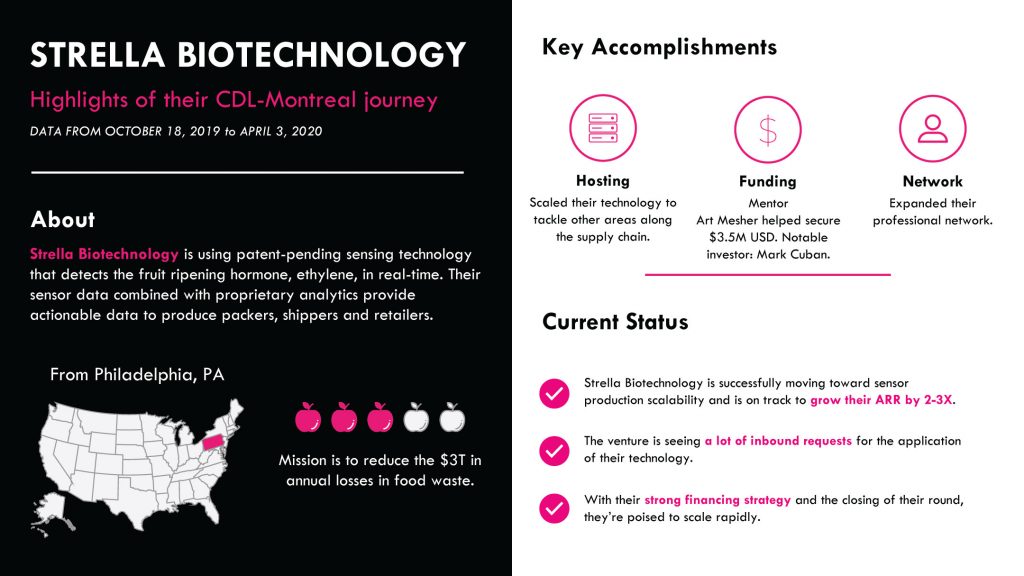 Strella Biotechnologyis using patent-pending sensing technology that detects the fruit-ripening hormone, ethylene, in real-time. Their sensor data and proprietary analytics provide produce-packers, shippers, and retailers with ripeness levels and other actionable data in order to reduce spoilage.
Key accomplishment
Prior to CDL, Strella had seen success piloting their technology with apple storage facilities, but wanted to scale to tackle other areas along the supply chain. With the help of CDL Mentor Art Mesher, the company was able to devise a strong financing strategy and get in touch with key investors, securing $3.5M in funding.
Where are they now
Strella Biotechnology is successfully moving forward towards sensors production scalability and is on track to grow their ARR by 2-3X. The venture is seeing a lot of inbound requests for the application of their technology, and with the closing of their round, they're poised to scale rapidly.
Plotlogic
COFOUNDERS: Andrew Job (CEO)
STREAM: Artificial Intelligence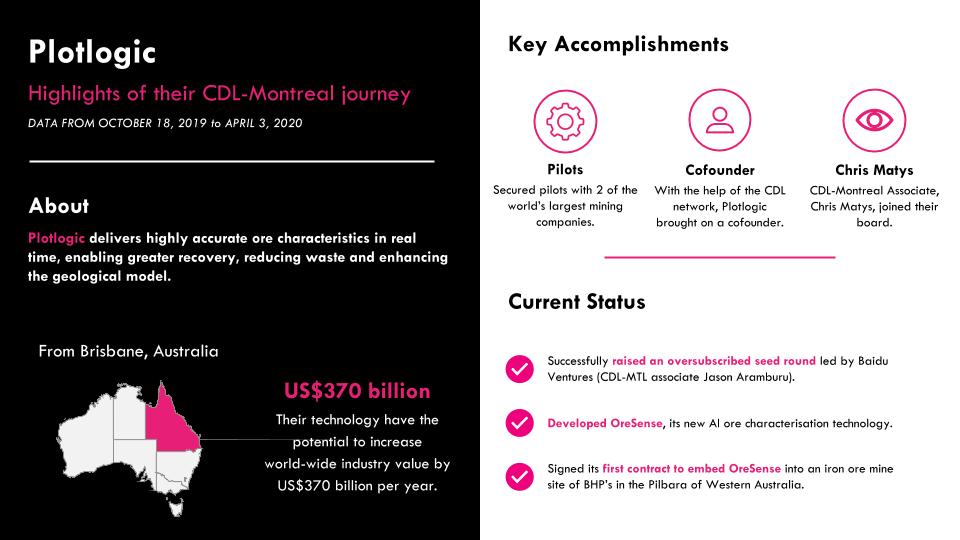 Plotlogic is a mining technology company that delivers highly accurate real-time ore face mapping systems. These systems enable mines to improve their ore recovery and mine schedule accuracy, while simultaneously reducing waste and process inefficiencies. Plotlogic's first product, OreSense®LV, uses remote sensing hardware and machine learning to assist in operating efficiency, resource recovery and deliver value.
Key accomplishment
During their CDL journey, Plotlogic secured pilots with 2 of the world's largest mining companies. Under the guidance of CDL mentors, Plotlogic brought on a co-founder and CDL Mentor Chris Matys joined their board.
Where are they now
Successfully raised an oversubscribed seed round led by Baidu Ventures (CDL Mentor Jason Aramburu) with DCVC, 8VC and others also involved. Signed its first contract to embed OreSense, its new AI ore characterisation technology, into an iron ore mine site of BHP's in the Pilbara of Western Australia.
LearningBranch
COFOUNDERS: Patricia Macleod (CEO), Stephane Rivard (President)S
STREAM: Artificial Intelligence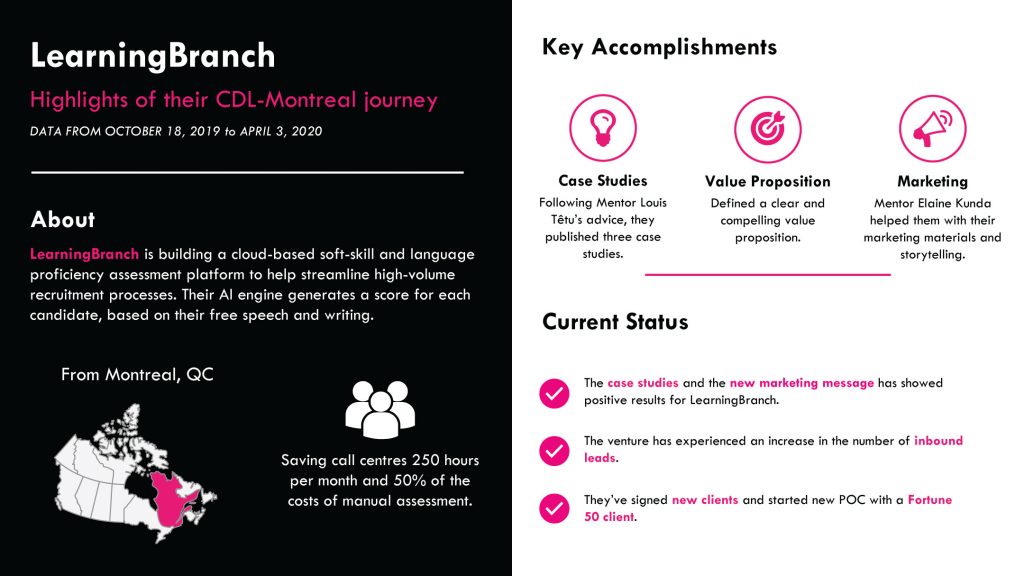 LearningBranch is building a cloud-based soft-skill and language proficiency assessment platform to help streamline high-volume recruitment processes. Their AI engine generates a score for each candidate, based on their free speech and writing, saving call centres 250 hours per month and 50% of the costs of manual assessment. LearningBranch currently evaluates 4 out of the 30 soft skills they have identified.
Key accomplishment
Following CDL Mentor Louis Têtu's advice, the team published three case studies using LearningBranch-generated metrics to demonstrate value for recruiting, training and performance assessments. They were also counseled by CDL Mentor Elaine Kunda to prioritize refining their marketing materials and the story they tell their customers. This allowed them to create a clear and compelling value proposition.
Where are they now
The case studies and the new marketing message has showed positive results for LearningBranch. The venture has experienced an increase in the number of inbound leads, signed new clients and started new POC with a Fortune 50 client.

Revelio Labs
COFOUNDERS: Benjamin Zweig (CEO), Yedidya Gorsetman (COO), Louis Massera (CTO)
STREAM: Artificial Intelligence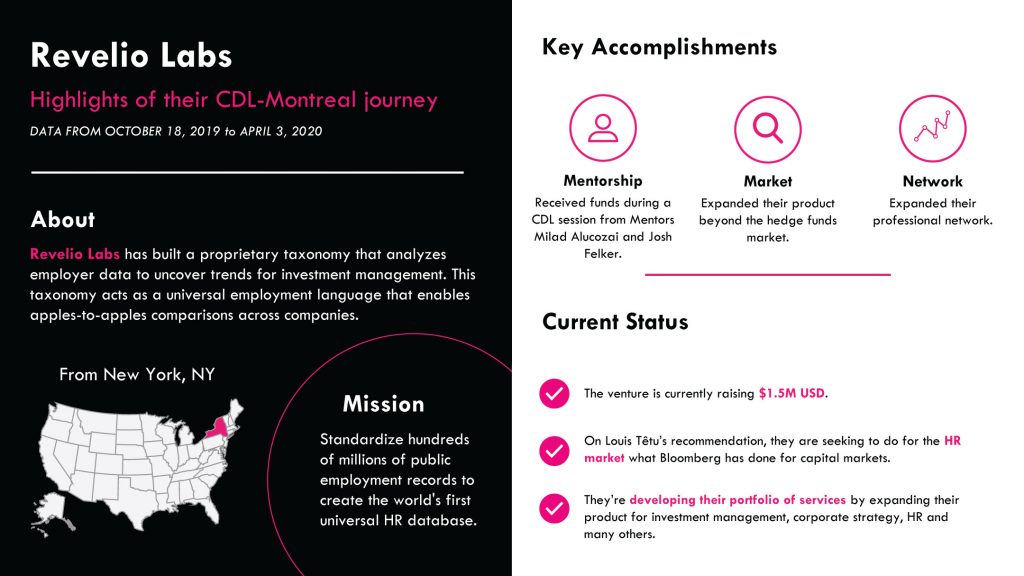 Revelio Labs has built a proprietary taxonomy that analyzes employer data to uncover trends for investment management. Their taxonomy enables the creation of a universal employment language that enables apples-to-apples comparisons across companies.
Key accomplishment
Before CDL, Revelio Labs was focused on using their data to serve hedge funds. After discussing with CDL mentors, the venture was prompted to look beyond this market. CDL Mentor Louis Têtu took an interest in the venture and suggested that they expand beyond just hedge funds and become the 'crunchbase for workforce intelligence'.
Where are they now
The venture is currently raising $1.5M USD and is executing on Louis' recommendation, seeking to do for the HR market what Bloomberg has done for capital markets. Their insights regarding the reduction and freezing H-1B visas in the United States were recently profiled by Forbes.